WAVERUNNER/3-PSGRS/110HP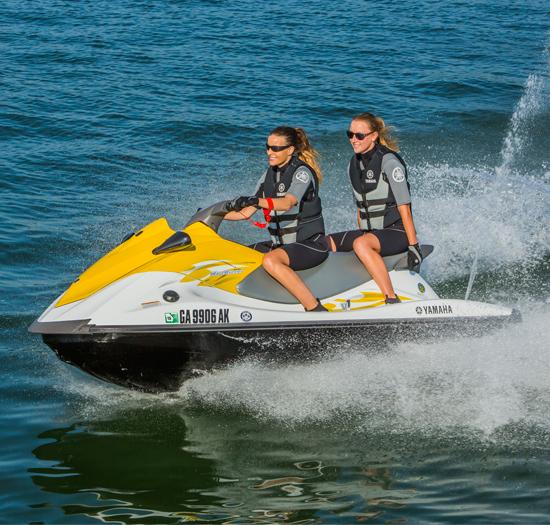 Location: Lewisville, Texas


Due to high call volume, we encourage you to save time by reserving your boat rental online!
2-Hour Minimum Rental

EASY 3-STEP BOOKING!

1.) SELECT A RENTAL DATE ON THE CALENDAR
2.) CLICK THE BOOK NOW BUTTON
3.) SELECT A START TIME
With full features and full performance in one package, you will want to stay out on the lake all day with this WaveRunner! She is comfortable, stable, predictable, and yet can deliver a surprising degree of fun factor. Go out with the kids and you won't worry about tipping them into the water. Go it alone and you can carve a pretend buoy and turn with precision, regardless of water conditions. Yamaha has long been regarded as a rough-water standout, and the V1 Sport lives up to that reputation. She is great for new riders and pure excitement for the experienced.
Features include:
3-Passenger Seating
Multi-function instrumentation panel
Dual mirrors
Reverse
Glove Box / Dash Storage (15 gal total)
Full Size Re-Boarding Platform
3 Blade, Stainless Steel Impeller
Required Ski Jackets
Fuel Capacity 18.5 gal
50 MPH
110 HP
Color and Style may vary.
Towing tubes, skis, etc is prohibited.
Drivers of our watercraft must be at least 18 years of age. Watercraft drivers between the ages of 18-25 are required to hold a Texas Boater Safety Card as mandated by Texas Parks and Wildlife.

Submitting a reservation and failing to complete/obtain the Texas Boater Safety Card will result in forfeiture of all monies paid and cancellation of
the reservation with no future rescheduling. It is your responsibility to obtain the card.

To obtain the card, complete the safety course online at: https://www.boat-ed.com/texas/

Swimming is at your own risk - Life jackets/vests MUST be worn at all times when in the water - There can be no exceptions.